I want to talk to you today about an industry that is exploding creating a potential opportunity
to profit. And that's why I'm here after all, to point your nose towards the biggest pies, is it not?
Sport betting has recently taken off, with a boom in online gambling and many states legalizing
sports betting. After Covid-19 pushed many inside, creating millions of new participants in the
stock market, "Stimmys" in hand, we saw cultures like the WallStreetBets sub-reddit develop,
famous for "FD's" and "Yolos," with members betting their life savings on near impossible
trades and sharing their DD or "Due Diligence" and "loss and gain pr0n" with their fellow apes.
Led by supposed "Wrinkle brained apes" they took stocks like AMC and Gamestop to levels that
previously could have never been imagined. With many original "OG" WSB members now
leaving, claiming it is no longer what it used to be, and with many frustrated traders losing
money, liquidity is leaving the market. The entry to invest in Stocks is much higher ($25,000 to
trade without restrictions) than it is to place a $20 wager on your favorite team. It is much
easier to take a gamble in the Sports Market instead of the Stock Market now. And this is just
what I think many are doing. After all, they are already familiar with their teams and watching
the games. Putting some cash on the line can make things more interesting.

I know what you're thinking. "Are you, of all people, really comparing Gambling to investing?"
My reply would "Yes." But I am not placing them on the same pedestal. Much like in stocks,
there are many things we can do to increase our odds. In fact, with spreads, the better team
can be effectively handicapped, by stipulating that the favored team must win by 2, 3, 5 or even
more points so that no matter what team you are betting on, you have a 50% chance to win,
and the team you pick doesn't need to win the game! They simply need to lose by no more
than the handicap or spread, say 3 points!

Prefer more or less risk? You can bet on favored teams and even diversify your bets by betting
on a few, further increasing your chances of a winner. In fact, you don't just have to bet on a
team winning or losing, whether by a certain amount or not. You can bet who will catch the first
touchdown of the game. Or if Special Teams will catch an interception! These often pay 900 to
3000%.

Imagine, several small $5-$20 bets on the first catch, if one is successful, your $20-$100 bet can
net you several thousand dollars! The betting doesn't jut apply to the NFL, it applies to nearly
every game! Without a doubt though, the NFL is their bread and butter. With the NFL playing
an extra game this year, that equates to more profits more companies like Draftkings and
FanDuel.I hope I have set the picture for you as to WHY I think many will find interest in this growing

trend. I want to talk to you about why a. I think we are going to see huge growth in this industry
and b. how to be best positioned to capture this growth.
So let's first look at our two main companies to choose from. Draftkings and Fanduel.
Fanduel is owned by Flutter, traded under symbol OTCMKT:PDYPY. Draftkings on the other
hand is publicly traded under ticker symbol NYSE:DKNG. When you invest in Flutter, you are
investing in a lot more than just Fanduel and Sports betting, for better or worse. These are the
two that I will look into.

As of this year, FanDuel holds around 40% of the online market. Flutter has an ongoing lawsuit
with Fox (NYSE:FOX) over a 19% stake in their company, adding risk. Draftkings on the other
hand is trailing with a 29% market share but no legal issues.
Draftkings gained market share in August this year, adding to the case for DKNG as an
investment. Smaller players include MGM and Penn Gaming (Tickers NYSE:MGM and
NASDAQ:PENN.) They hold a mere 13% and 5% respectively. FanDuel and DraftKings have both
spent years building their brand recognition through online fantasy sports sites, and so have
positioned themselves well.

These companies earn most of their profits by building in a fee onto each bet. So let's say two
teams are PERFECTLY paired. You should have a 50% chance, which shoul d equate to a 100%
gain if you bet right. Instead, you would win let's say 95%. This is because these fees are built
in. This is much like the structure that the stock market has turned to, with market makers
adding a cent and profiting between the spread.

There are even signal services being offered promising huge returns in the Sports betting
market!

Let's take a look at the charts of our top two contenders for the online sports betting market.
First up below is DKNG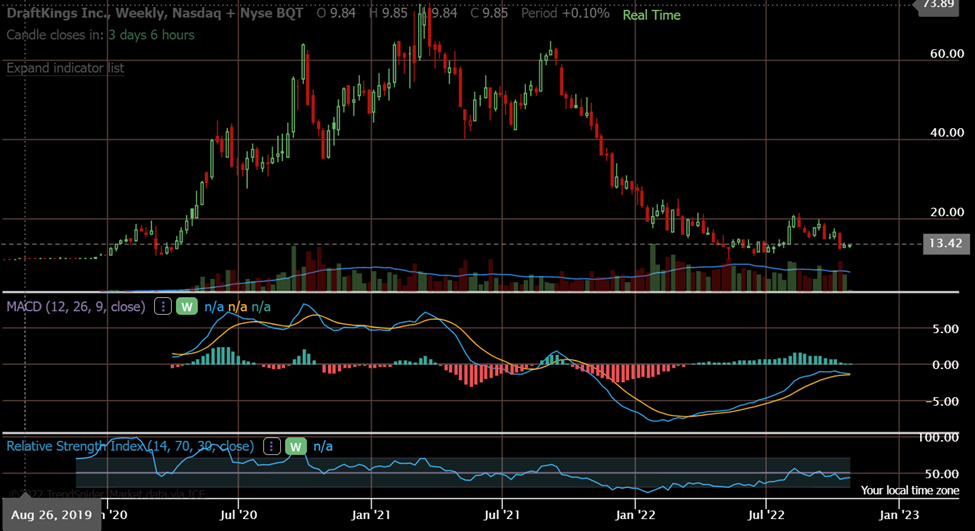 NYSE:DKNG has retraced from its high of $75 in March of 2021 to $13 in October of 2022, a drop of just under 83%.
And our main contender, Flutter (OTCMKTS:PDYPY)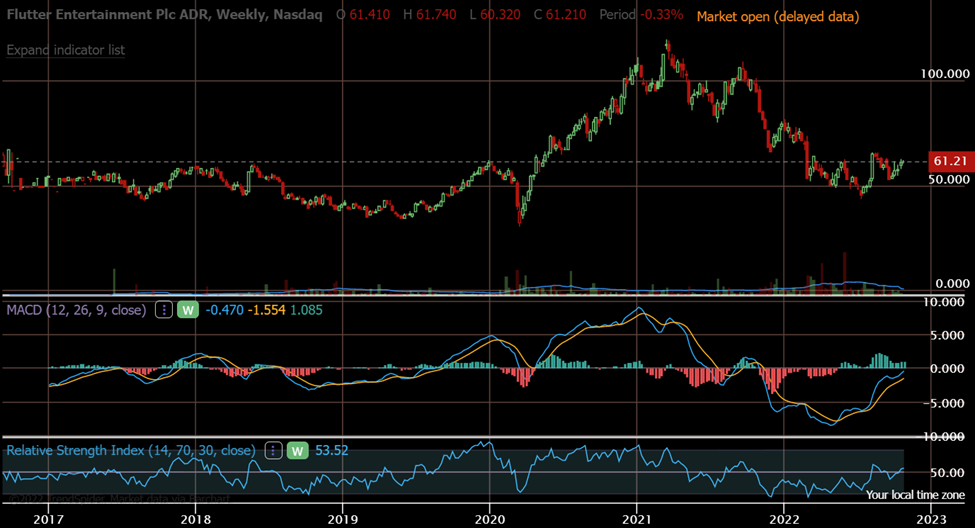 Flutter on the other hand has retraced from March 2020 highs of $119 to $61 in October 2022, a drop of just under 49%.
Now let's review some of the financials of both companies.
In 2019, DKNG earned 226M revenue. In 2020 that nearly tripled to 615M. In 2021, annual revenue was 1.3B.
In 2019, Flutter earned 2.7B revenue. In 2020 that too doubled to 5.7B. In 2021, annual revenue was 8.3B in 2021.
This data shows that while DKNG had a smaller revenue, they have grown at a faster rate. We should also note Flutter's business is more than just Sports betting. The company paid $4B in 2020 for FanDuel. At the time that would have been about 8% of their market cap of about $45B. To date it is about 28%. ($5.7B of their 20B market cap.) Clearly their timing could have been better.
If we look at Gross Profits for DKNG from 2019 to 2021, Gross Profits were 219B, 267B and 500B respectively.
For Flutter on the other hand, gross profits were 830B, 2B and 3.2B. Clearly, Flutter has been able to find more profit, but again, Sports betting is only one part of their business.
What was most important for me was the fact that while we saw revenue growth slowing in 2021 for Fanduel (Flutter), we saw a huge increase for Draft kings. 267B to 500B versus 2B to 3.2B. This could hint that Draftkings is taking market share from Flutter.
Make no mistake that FanDuel is the king today. But who invests in the king? I mean…where can you go from the top? DraftKings is showing signs of catching up. In fact they had more downloads of their App and 78% of bettors say they are familiar with DraftKings, whereas just 73% were familiar with FanDuel.
It is estimated that the industry as a whole will more than double in the next two years, meaning there's plenty of pie for everyone…for now.
This is a growing industry. And legalization of states is going to be key to growth as is building partnerships in these States with physical locations. Below is a map of states where Draftkings has Sportsbooks.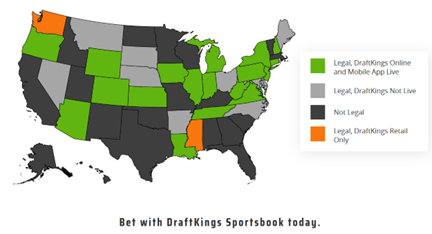 In Mississippi and Washington State where gambling is not yet legalized, Draftkings has partnered with local casinos to bring betting to tribal grounds. This is a move that while small, is going to build brand recognition with state citizens. This will give DraftKings an edge in these states when betting is legalized there eventually. Fanduel has no retail locations in Mississippi.
Here is a map of FanDuel locations.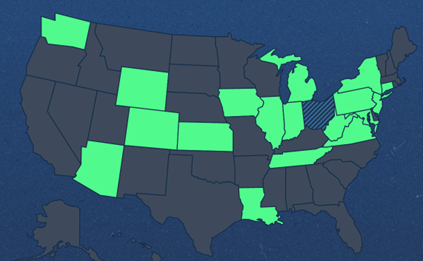 FanDuel has a total of 16 locations as of October 2022.
Draftkings has a total of 18 locations as of October 2022.
This tells us that DraftKings is leading the way in creating a broad physical presence.
For 2022, Draftkings EPS is estimated at -$3.16. In 2023 that's expected to increase to $-2.11, a 30% growth in EPS. At this rate, DKNG could have a positive EPS by Mid 2024 which would put it's Forward P/E in a very nice place considering the current price at just $13.
Flutter on the other hand is estimated to pull down an EPS of $1.41 for 2022 and $2.81 for 2023, a 100% increase, quite substantial. However you are paying a whole lot extra for that growth, as shown below.
PDYPY has a Quant Rating of 2.91 (Hold/Sell.)
DKNG on the other hand has a Quant Rating of 3.41 (Hold/Buy.)
PDYPY has a very high Forward P/E at 43X their earnings, almost 4X above the S&P 500's Forward P/E average, but not uncommon for a Growth company. DKNG on the other hand has a Forward P/E just under that of the S&P500 at 12.1. This is one metric that can make it easier to compare the two, and one of many that clearly shows that DKNG is the better choice.
PDYPY is trading at about 2X it's low. DKNG is trading AT its low.
In conclusion, I believe that while both are excellent choices, that Draftkings is poised for success.
For Full alert and others, please sign up for a free trial of our service today!